Casio Databank Calculator Watch: Geek it out, old-school style!
Introduced by Pulsar, the first calculator watches appeared on the market in the 1970's. Check out the latest version of these super fun watches : Casio's Databank Watch.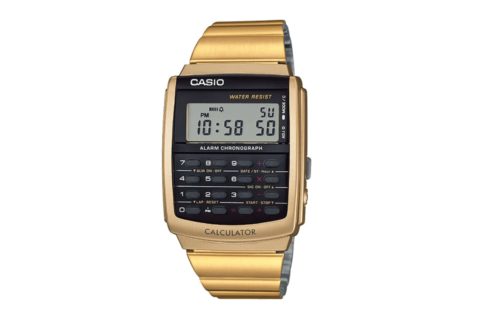 First introduced in the mid 1970's by Pulsar, calculator watches made their way to the market. Then, several different companies came up with their own calculator watches designs, like Hewlett Packard, Seiko and Citizen - just to name a few. These watches, with the particularity of having a built-in calculator, then disappeared from the market, until Casio brought them back with its Databank Collection.
Introducing Casio's Databank Watch in gold tone; This both super geek, and super fun watch is part of the Databank collection grouping nine different designs. All of which feature a cool retro built-in calculator.
This particular calculator watch has a 32mm case and showcases a Quartz movement. The case, made of stainless steel, is covered by a mineral crystal glass to protect it from scratches. Its golden bracelet is stainless steel plated. The entire look of this watch is inspired by watches Casio used to design in 1988. As retro and vintage designs have recently strongly come back in style, the Databank Calculator Watch by Casio is certainly one to consider adding to your watch collection.
The gold-tone Databank Calculator Watch by Casio really makes for the perfect opportunity to geek it out in style - old school style that is! Its dial is very retro looking and is quite large, displaying the time, date and day of the week. Right below is located the built-in calculator which, yes, actually works! It is equipped with eight digits and allows you to calculate additions, subtractions, multiplications as well as divisions! What a cool way to add a little vintage to your style.