Let your inner dork out with Nixon's Dork Too watch!
Nixon revives and gives a whole new meaning to the word ''inclusion'' with the Dork Too watch. Made for people who love gadgets and fun stuff. We don't always have to take ourselves seriously!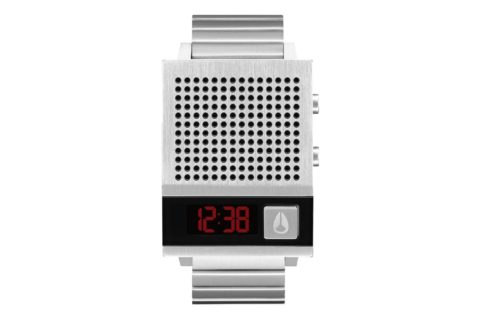 Nixon qualifies its Dork Too watch as a smart ass watch, as well as a Nixon icon that doesn't take itself too seriously. You read it right, not a smartwatch, but a smart ass watch! Why not have fun and dork it out with our watch?
The Dork Too watch is a fun conversation piece. Even the watch itself can be part of the conversation as it speaks! When you press a button, it actually screams out the time. How fun is that?
Its case is 34mm and made of stainless steel, so is its bracelet. A large portion of the case is literally a speaker, instead of a bigger display screen. Because of this, the Dork Too watch is not waterproof, only splash resistant. Even with its large speaker, there is still a display screen where you can see the time, date and alarm. And it is equipped with a blacklight.
We love Nixon's Dork Too watch as it allows everyone to let their creativity shine. Nixon has showcased two inspiring people who have loved playing with this watch, like Sophy Wong, who designed a robotic face to go with the watch since it speaks, and Emmanuel Carrillo, an Industrial designer who uses it for inspiration for building new gadgets. Their stories are featured on cool videos available on Nixon's website.
Finally, the Dork Too watch is also perfect for both women and men, as it comes in four color options : black, all black, gold or rose gold. It is easy to recharge, as you only need your USB port to charge the watch in its micro USB charging port.