Top 10 Most Innovative Kickstarter Watches
Are you looking for a never-before-seen timepiece? A real head turner? Here is the Top 10 Most Innovative Kickstarter Watches.
At T10W, we love to feature great timepieces. It is important to offer our readers diversity, therefore we have decided to create a Top 10 list for Kickstarter Watches. Kickstarter is a great platform for inventors to push their creations out to the world and to gauge their real selling potential. If you are looking for a never-before-seen timepiece, one that is not even on the market yet, this is the perfect article for you.
Our Top 10 Most Innovative Kickstarter Watches showcases fresh watches, that need your support in order to become available to the world. From super intriguing looks all the way to very detailed watches, each of these ten options are unique and special. With watch designs from all over the world and for both women and men, you will for sure find one that you have always hoped would exist!
SQ39 Novem Watch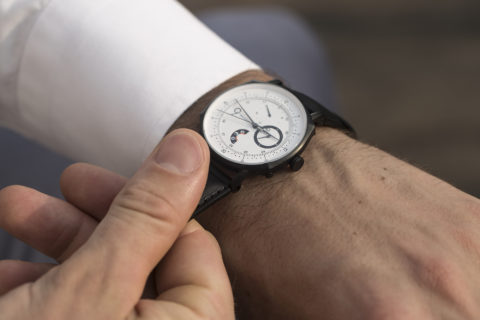 From Sweden, here is the SQ39 Novem Watch by Squarestreet. This is a Contemporary Moon Phase Watch, with an environmental conscience ; this is why it had to be number one on our Top 10 Most Innovative Kickstarter Watches. Check it out!
First of all, it is good to know that this watch project has been completely funded in an impressive 5 hours! The SQ39 Novem Watch comes in two different color options : black/white/black or all black, with a gold-toned touch. The project has been so successful, with 309 backers, that Squarestreet has offered multiple bonuses with their watch like a summer strap (with five colors to choose from), battery change and much more.
Not only is the SQ39 Novem Watch beautiful and detailed, it also has been created with our environment in mind. Squarestreet has partnered with Plastic Oceans, to whom they give back part of their profits. This organization is known to clean up our oceans from the plastic and waste it suffers from. Additionally, the box that comes with this watch is made of micro patterned art paper - all paper. What great initiatives!
With a design inspired by the Hallwyl Museum in Stockholm, the 40mm SQ39 Novem Watch is also very special because of the moon phases it displays (new, half, full). As well, this timepiece is equipped with a Swiss Ronda movement and its strap is made of Swedish Reindeer leather. Squarestreet has not spared any details with this watch as even the back of the case has a laser etched guilloche design, which is gorgeous.
See this watch
Ventura V-Matic EGO Watch
With 36 backers so far and over $33K raised, the Ventura V-Matic EGO Watch has until August 14th 2019 to see the light of day. Designed by renowned Hannes Wettstein in 1994, Ventura wanted to relaunch their brand after Mr. Wettstein sadly past away in 2008. They were able to do so by partnering with Stephan Hürlemann, a close friend of Mr. Wettstein. And the response has been great as it is currently funded at 266% on Kickstarter.
The Ventura V-Matic EGO Watch has been created and designed in Zurich, Switzerland. This watch is Swiss Made and is equipped with an automatic, self-winding movement, as found in most luxurious watches of this world. Ventura wanted to focus on the simplicity of the design of this beautiful timepiece, and that is well done. They qualify the V-Matic EGO Watch as "an understatement statement".
For the first time, the watch now comes in two color options for the dial : white or black. The case is 41mm and is made of hardened titanium, with a PVD coating. The V-Matic EGO Watch comes with either a 5-piece link titanium bracelet, or an Italian leather strap. What is different about this watch is the simple dial that displays the date, but in a unique way ; there is only one number shown, with one, two or three dots on top of the number, indicating 10 days each. Therefore, if you see a 2 with a dot above it, it means it's the 12th of the month.
Last good news, for the initial backers, the delivery of the V-Matic EGO Watch by Ventura will start no later than a few weeks after the campaign ends!
See this watch
The Tribesman Watch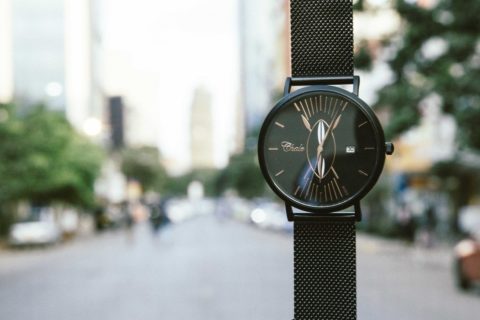 Chale was born in Norway, from a young African inventor. The goal of the company is to create timepieces that are sustainable, and that respect the both African fashion and culture. With a very environmentally-friendly mindset was born the Tribesman Watch. This watch is not only gorgeous, but it also gives back!
The Tribesman Watch has been designed by Joshua Muthure Muturi, a Kenyan designer, rapper and dancer. He was inspired by the African culture and wanted to offer the feeling of being part of a tribe when backing this Kickstarter watch.
When getting your own Tribesman Watch, you get a serial number engraved in the back of the case. This number allows you to register your watch on the Chale website, which gives you the chance to donate 10$ - of your already spent money - to one of the charities Chale supports, like clean water or protection of wildlife. Isn't that amazing? Not only that, but the Tribesman Watch is also made with renewable eco-friendly materials, like Piñatex®. Piñatex® is a material made from pineapple leaves, which does not affect the environment. It has been used for the Tribesman Watch strap, as well as its packaging. And, to top it off, this Kickstarter beauty is powered by the sun, which is a renewable energy. Only two hours of battery charge will last six months!
The Tribesman Watch has a stainless steel case, that comes in either 36 or 40 mm. You get to choose from four color options : rose gold, silver, gunmetal or black. You can also customize the look of your watch by choosing a white or a black dial. Additionally, you get two strap options : either stainless steel mesh or vegan leather. Each strap comes in four different colors. Get yours before August 9th 2019!
See this watch
The Philosophies (II) Collection by HUMISM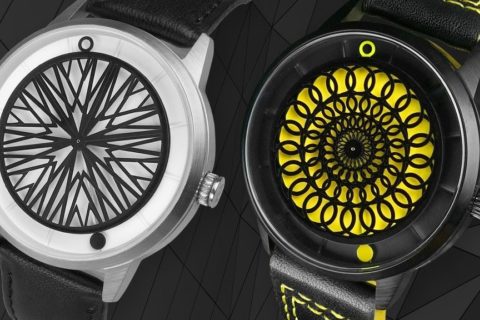 HUMISM is a recent company, founded in Singapore in 2017. They qualify themselves as being "as much an art studio as a watch brand". With this idea in mind, they launched the Philosophies (II) collection, featuring four amazing timepieces.
The collection is currently funded on Kickstarter at 458%, by 173 backers, with 22 days remaining. It was designed by David Sze, who has gotten his inspiration for this Collection from the Kinetic Art movement. It's fascinating to see what he came up with, in terms of designs.
First of all, every single one of these timepieces is unisex, which is great. Also, they all have a 39mm case, are water resistant up to 50 meters and are equipped with a Sapphire crystal glass. They come with a Italian style leather strap, but you also get to add on a mesh bracelet if desired.
The Kato watch is the first of the collection, with skeleton back. It is sophisticated, yet complexed. This watch has got a white dial with black accents, that create the image of a round-shaped flower blooming as time goes by. To be exact, 48 petals of this flower open simultaneously. It is amazing to see! Then comes the Rhizome watch; just like the Kato watch, it has got a super interesting movement on its dial, like a flower with sharp-edged petals. The moving pattern is made to give the illusion of expansion and contraction. The second part of the collection includes two limited edition timepieces : the Dasein with 290 pieces available, and the Eudaimonia with only 190 pieces available. They both have a very impressive design, with a bright yellow dial and inside of the bracelet, combined with black moving accents.
If that's not interesting enough, please know that 5% of all sales are donated by HUMISM to a charity called Mercy Relief. Each watch sold can provide food for a child in need, for 30 days.
See this watch
IGEMON Watches - Classic Collection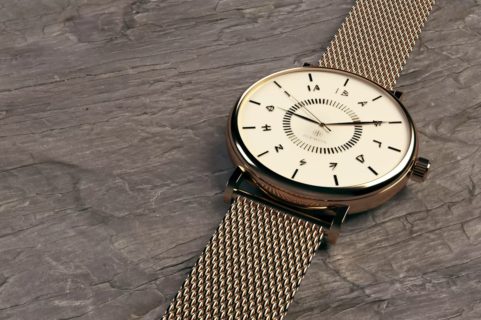 If you are looking for something elegant, sophisticated yet different, take a look at the Classic Collection of the IGEMON Watches. They are just stunning! And you won't be the only one interested as this Kickstarter project is, so far, backed by 92 people and 105% funded.
IGEMON Watches is a family company, it was launched by two Greek siblings : Michaella and George. They wanted to integrate the history of Greece in their watches - and they did so, brilliantly. That's why their philosophy is : "We learn from history, we make history". Check out the Classic Collection of the IGEMON Watches and treat yourself with an amazing timepiece, while backing a family company!
The Greek touch is demonstrated on their beautiful timepieces by Ancient Greek numbers on the dial. This adds such a nice detail to the watches, and uniqueness as well. The Classic Collection of the IGEMON Watches is composed of three options for men as well as three for women. The men's collection has 43mm cases, and the ladies, 40mm cases. In both the men's and the ladie's collection, you get amazing color options for the dial in addition to the accents, like hour markers, on the watch.
The IGEMON Watches come with the option of a stainless steel mesh bracelet, available in three colors (silver, gold or rose gold) or an Italian leather bracelet, either in black or brown, both colors with an alligator pattern. All cases are made of resistant stainless steel and equipped with a Sapphire crystal glass, which protects the dial from scratches. As well, the IGEMON watches are water resistant up to 50 meters and boast a Swiss Ronda Quartz movement. When getting your own, you also receive a certificate of authenticity as well as a limited 2 year warranty against manufacturing defects.
See this watch
The Time Traveler II Watch by OVD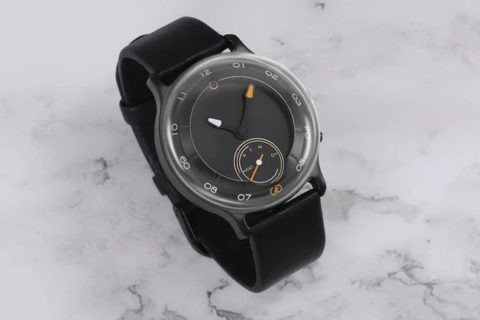 Are you ready to learn about an uncommon story? Introducing the Time Traveler II Watch by OVD. The funky story about this watch is that its design was inspired by the legend of John Titor, a time traveler who came back in time in 2000 (from 2036) to tell us what the future held. With this story in mind was born the Time Traveler II Watch, a unique timepiece with a dome-shaped case.
So far, this Kickstarter project has been backed by 114 people and 330% funded. The project holds a collection of unisex watches, with five color options for the case as well as seven for the strap. Each option is very unique, like an ocean blue case or a light gun colored case. Additionally, the look of the case is very different from most watches, with the way the hours are marked and the details are displayed on the dial, which is a nice change. What is also different about these watches is that they are hybrid watches. In order to insure an accurate time, you get to either manually turn the crown button or use the OVD app to time-sync with your smartphone. The OVD app also allows you to get notifications and alerts, as well as tracking daily activity and much more.
The Time Traveler II Watch collection is equipped with bluetooth, a time-sync option, a sapphire crystal glass and a stainless steel case. All of the timepieces in this collection come with a 42mm case, an Italian leather strap and are water resistant up to 50 meters. Other great features of this collection include a battery life of one year and a packaging made of recycled materials.
See this watch
Flewkoo Watches - The Lunar Collection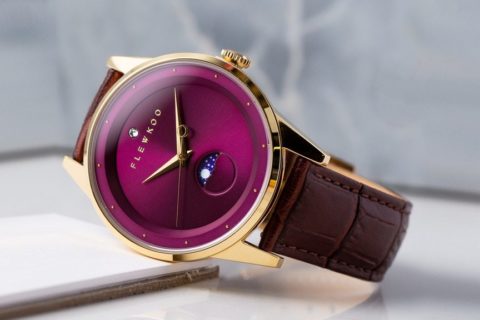 Flewkoo Watches only needs a few more backers to reach their Kickstarter goal! As of now, they are 97% funded and have 19 days to go with their campaign. The launched the Lunar Collection, containing three gorgeous unisex timepieces. Let's see in detail how special they are.
Flewkoo's goal with this collection was to design "minimal and classy" watches. Well done! They came up with three creations that have a rounded and slim case, so that you are always comfortable when wearing your watch. The case design also allows you to make more movement, as it is thinner and lighter on your wrist.
The first of the Lunar Collection is called Twilight, and it has a stunning purple dial. This one was inspired by the colors of the sun as it sets at night. The second is called Moonlight and showcases a navy blue dial. The third, the Eclipse, boasts an all black minimal, yet very interesting dial. Each of these watches feature a beautiful symbol with the sun, moon and stars on its dial. The also have the Flewkoo logo, as well as a little gem that adds shine to the watches. All cases are 42.33mm and the strap that comes with them is made of leather with a crocodile texture. Additionally, all straps are interchangeable.
All of these watch cases are made of stainless steel and protected from scratches, with a Sapphire glass. The watches from the Lunar Collection, by Flewkoo, are equipped with a customized Miyota movement and are water resistant up to 50 meters.
See this watch
Active Watches "Terra Collection 03"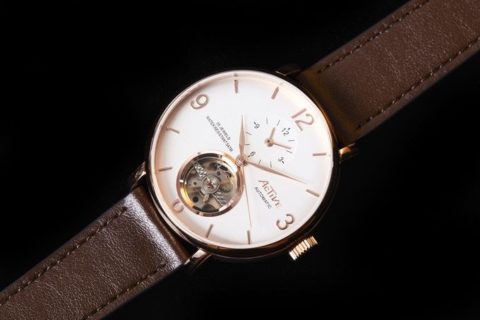 Active watches has the goal of creating their own watch brand, while still being able to offer affordable timepieces. They have recently launched the Terra Collection 03, which has been funded at 632% by 179 backers so far. That's a great start to building your own complete brand! With their watches starting at 99$, these are great rare options to add to your watch collection. The design of these watches really is something to see.
The Terra Collection 03 showcases amazing watches with an automatic dual time open heart movement. Yes, the dome shaped dial features the time of two different time zones. And with its open heart, you get to see the mechanism of the movement, which is so interesting and unusual to see! That is a feature that really differentiates the watches from the Terra Collection from other common designs. This is also why this collection is meant to be "presented to world travelers".
Each of the watches from the Terra Collection 03 by Active contains 35 jewels, are water resistant up to 50 meters and have a Sapphire crystal glass on their dial. The dial features both numeral (at 3, 6, 9 and 12 o'clock), as well as clean marked hour makers - and that is for both time zones. The case back is a skeleton back, which features the inside of the watch, to complement the open heart window on the front of the dial. The 43mm cases are made of stainless steel and the bracelets of genuine Italian leather. The straps come in either black, dark brown, brown of navy blue. As well, Active offers complimentary international shipping on their timepieces.
See this watch
Redundant Watch by Anicorn Watches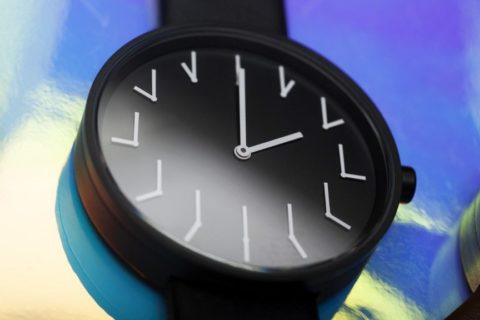 Anicorn created the Trio of Time, a concept where the watch brand partners with different designers around to world to elaborate various watch collections. Anicorn recently partnered with designer Ji Lee and was born from this alliance the Redundant Watch. This fresh Kickstarter project needs more backers at this time! The campaign ends on July 28th 2019, and they are currently funded at 76% with 126 backers. Let's go through a few reasons why the Redundant Watch would be a great addition to your watch collection.
For a graphic design class project, Ji Lee was once asked to design a clock. He came up with the Redundant Clock, which was a huge success. The concept of this clock is that each hour marker is actually the way you would read time on a conventional clock, with clock hands. Only the hour and minute hands do actually move to point out the current time. When partnering with Anicorn, designer Ji Lee took the same concept and applied it to a watch, and the result is an outstanding timepiece collection.
The Redundant Watch has a 40mm case, protected by a mineral glass. The case is made of stainless steel and is designed thin, at 7.5mm, so that it is sleeker and more comfortable to wear. This Kickstarter watch is unisex and is equipped with a Miyota Japanese movement. It comes in three dial color options : white, black or silver, with an interchangeable leather bracelet that is available in either brown, black or white. What is also a nice detail of this watch is that the hour markers (clock hands) are available either in black or white, which adapts perfectly to the case and bracelet you would choose for your watch. Although the Redundant Watch is water resistant up to 50 meters, it may be too cool to swim with, but definitely not too cool for everyday wear!
See this watch
Monsieur Ranomo Watch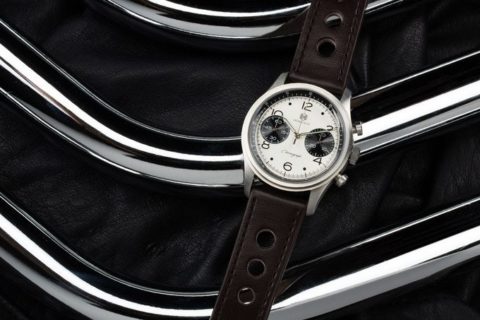 We couldn't make a Top 10 Most Innovative Kickstarter Watches list without featuring the Monsieur Ranomo Watch. This mechanical chronograph watch beautiful and full of interesting features. It is inspired by the racing days of the 70's, where racers would wear chronograph watches. The watch brand Monsieur Franceco wanted to bring this vintage style of watch back, and created the Monsieur Ranomo Watch.
This men's watch currently has 40 backers on Kickstarter and is 95% funded. It features a detailed dial, with two sub dials, as well as a skeleton back protected by a Sapphire crystal glass. Skeleton backs are amazing as they showcase the details of the movement and the mechanism of the watch. It is super nice to see, especially when getting a rare timepiece like the Kickstarter Monsieur Ranomo Watch.
The 38mm case is made of durable stainless steel and has a K1 dome Sapphire crystal glass, so the details of the dial are perfectly displayed, as well as protected from scratches. Additionally, this watch is water resistant up to 50 meters.
The Monsieur Ranomo Watch is very luxurious looking. It comes with a genuine Italian leather band, available in four different colors. As well, it has two movements to choose from : either Miyota or Seagull. The design of the dial is either pale, with dark sub dials, or the opposite. This creates for an interesting detailed watch and also allows all features of the watch to stand out. The Monsieur Ranomo Watch has a starting price of $200, on Kickstarter, and the price goes up depending on the features you choose to include in your timepiece.
See this watch