Top 10 Men Watches for $1000
You have a 1000$ budget and are looking to find the watch of your dreams? Here is the Top 10 Men Watches for 1000$. Let's get the watch search started!
Let's be honest: we can find watches for every budget. Even smartwatches. But, this Top 10 list is reserved to 1000$ budgets. Let's see what kind of watch 1000$ can give you!
The Top 10 Men Watches for 1000$ is really exciting! It showcases our 10 favorites watches at a price point of 1000$. Yes there is a lot more options out there, but we selected the 10 best watches for 1000$, just for you! Whether you are looking for a an innovative sports watch like the Tag Heuer Formula 1, or an elegant luxury watch like the Museum Classic by Movado, you will be surprised by the variety and versatility found in this list.
Keep in mind that we may receive commissions when you click our links and make purchases. However, this does not impact our reviews and comparisons. We try our best to keep things fair and balanced, in order to help you make the best choice for you.

Tag Heuer Formula 1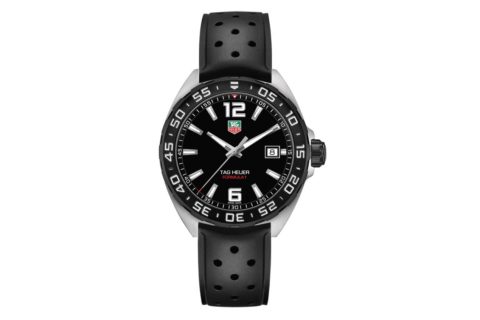 Now here is a sports watch that makes quite a statement! The Tag Heuer Formula 1 sports watch is so detailed and interesting, it had to be on our Top 10 Men Watches for 1000$. We love all the details that make this watch stand out like the luminous hour markers and the date display at 3 o'clock. Since it is water resistant up to 200 meters and it has a rubber band, this watch will be sure to stay stable on your wrist, accompanying you on many water sports and activities. Finally, the Swiss Quartz movement confirms it is a great choice for 1000$ budget.
See it on amazon
Movado Museum Classic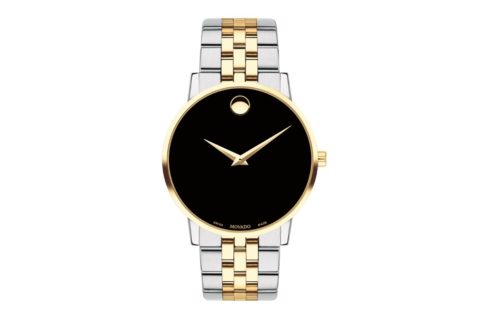 This watch is just elegant, with the 40mm black Museum dial, stainless steel and yellow gold PVD bracelet, it looks like a 10000$ watch. But no! It is just under 1000$. The Movado Museum Classic watch had to be on our Top 10 Men Watches for 1000$ because of the excellence that Movado brings to the table and because of the watch itself. This watch is water resistant up to 30 meters and its screen is made of sapphire crystal, which is very durable. The Swiss Made stamp on the watch not only confirms that its movement is Swiss Quartz, but it is proof that it is a good investment. These are some of the reasons why the Movado Museum Classic watch is at the top of our list.
See it now
Tissot Chemin des Tourelles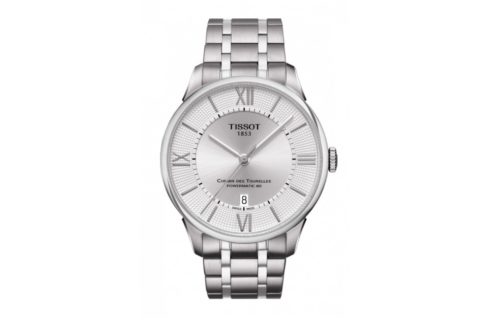 Swiss elegant and expertise, and much more, all delivered in one watch : the Tissot Chemin des Tourelles watch. Even its name is poetic! With an ambassador like superstar French Basketball player Tony Parker, you know this watch will not only look good on you everyday, but will be your training companion as well. The Tissot Chemin des Tourelles watch has won, back in 2015, the first prize in the International Chronometry Competition. What is really interesting about this watch is the transparent back of the case. It allows you to see the movement and see how the watch is made, which is really impressive. This watch is also water resistant up to 50 meters and is made of stainless steel with a sapphire crystal screen for durability. Check out its many different styles to find the one that suits you best.
See it now
Longines Conquest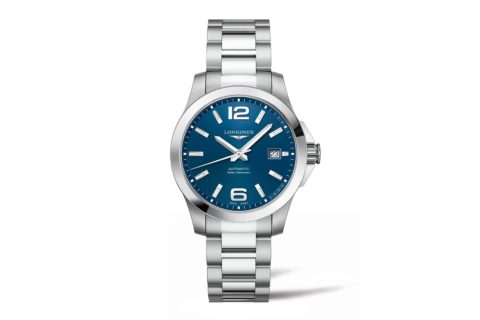 Longines is another great Swiss watch company. It was founded in 1832, right around the same time as Tag Heuer. Over the years, the company has evolved and has created amazing watches, like the gem that is the Longines Conquest watch. Just like most 1000$ watches, you can expect from this watch a Swiss Quartz movement, sapphire crystal case glass and water resistance up to 50 meters. The Longines Conquest watch also comes in 6 different styles that you can choose from. This watch offers more of a sophisticated classic look, with great features like the date display at 3 o'clock. At a first glance, you wouldn't think this is a sports watch, but it is made to suit sportsmen and is equipped to track, and follow, your sports and activities. Versatility at its best!
See it in Amazon
Baume et Mercier Classima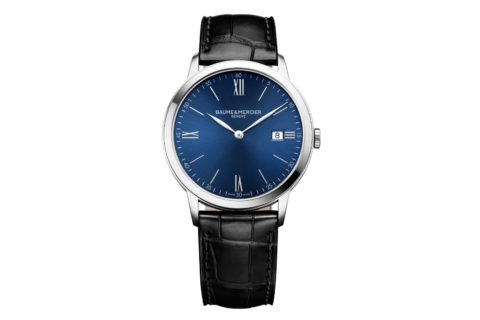 It's no surprise that most of the watches listed in the Top 10 Men Watches for 1000$ are from Swiss luxury watch companies. This one is no exception. The Classima by Baume et Mercier is a masterpiece created by the Swiss company. Baume et Mercier was founded in 1830, right around the same time as Tag Heuer. Its watches have been recognized all over the world. We decided to showcase the Classima watch as it is outstanding. The 42mm watch displays the date at 3 o'clock, on a minimalist dial design. Quartz movement, sapphire crystal screen, calfskin bracelet, all the bells and whistles went in the making of this watch. It is also water resistant up to 50 meters. The Classima watch by Baume et Mercier offers a classic, timeless, sophisticated and minimalist look. Perfect to suit that kind of men.
See it in Amazon
Raymond Weil Freelancer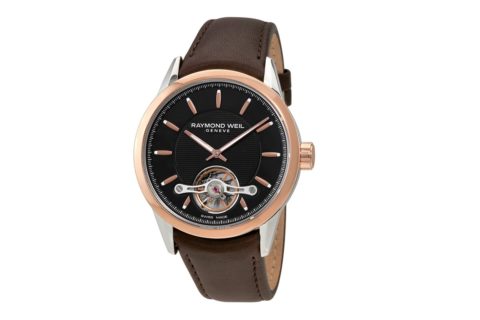 ''Independance is a state of mind.'' That is the slogan of the Swiss luxury watch company that is Raymond Weil. This company is a little more recent than some other well-known Swiss watch companies, it was founded in 1976. It is one of the last independent luxury watchmaking company. To stay with the theme, the Raymond Weil watch we included on our Top 10 Men Watches for 1000$ is called Freelancer. This watch is bold, just gorgeous. 42mm case, black dial which brings a lot of refinement to the watch, and yes, rose gold PVD case. The touch of rose gold on this watch brings the look together and slightly brightens the Freelancer watch, enhances its darker details. The back of the case reveals part of the Swiss movement mechanism, which is just fascinating.
See it now
Apple Watch Space Black Stainless Steel Case with Space Black Milanese Loop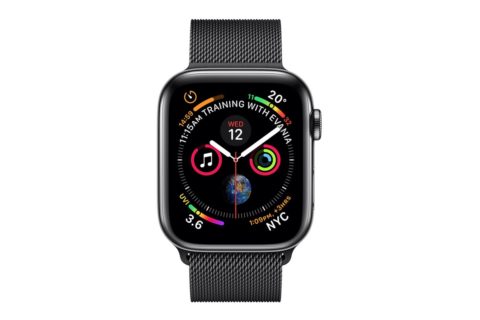 That is right, you can also get an amazing smartwatch for 1000$. The master of smartwatches had to be featured on our Top 10 Men Watches for 1000$. You guessed it right, Apple. The Apple Watch Space Black Stainless Steel Case with Space Black Milanese Loop spills the beans on its attributes, just with its name. This smartwatch comes in two sizes, 38mm or 42mm. It is equipped with a built-in GPS, has a battery life of up to 18 hours and is water resistant up to 50 meters. It also has a sapphire crystal glass, which makes it scratch-resistant. With its heart-rate sensor, accelerometer as well as many other features, this Apple watch will be a great training companion. Check out everything this smartwatch offers and enjoy the benefits its technology will offer everyday, just by wearing it.
See it on Amazon
Movado Connect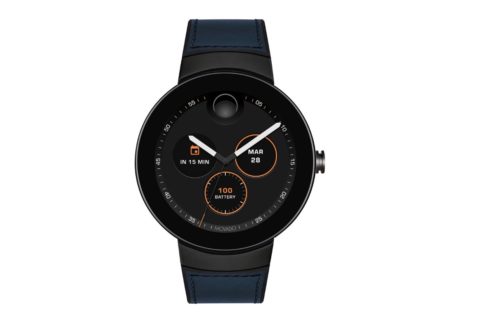 When it comes to smartwatches, many great options are on the market. Several world-renowned watch companies offer high quality smartwatches. Movado is no exception with the Movado Connect smartwatch. It had to be featured on our Top 10 Men Watches for 1000$ because of its amazing perks : powered by wear OS by Google, customizable digital steel case with crystal screen and it also contains everything that Google offers like emails, Google Fit, apps and of course, a lot more. What is very cool about the Movado Connect is the sensors it is equipped with. From microphone to accelerometer all the way to NFC payment, it's got you covered. The Movado Connect smartwatch comes in 4 different styles, all with a 46.5mm case and all at different prices, but below 1000$.
See it now
Hamilton Men's Jazzmaster Open Heart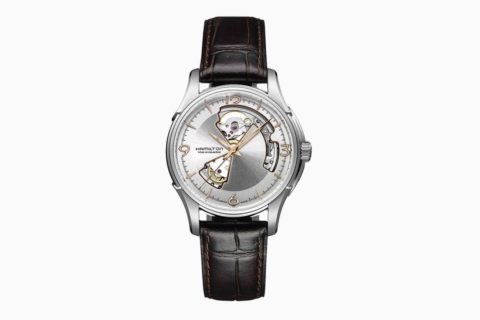 You like a little funkyness in your personal style? Something interesting that people will ask you about? Well, we got the watch for you! The Hamilton Men's Jazzmaster Open Heart watch literally has an open heart, so you can see the mechanism inside the watch. Isn't that amazing? If you are going to spend $1000 on a luxury watch, why not spend it on one that proudly showcases its mechanism, its heart. The Hamilton Men's Jazzmaster Open Heart watch has a 42mm stainless steel case as well as a black leather alligator-embossed strap. Not only does this watch has an open heart, but it also has a skeleton case back, which makes the entire mechanism visible. That is impressive, and so cool!
See it
Shinola Canfield Sport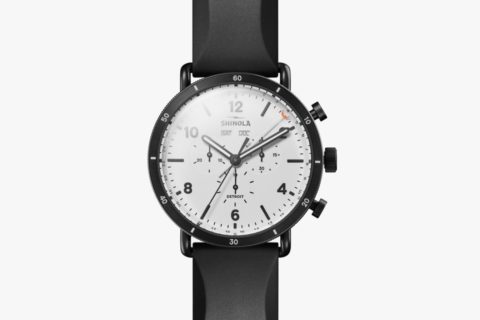 You thought you could not find a luxury sports watch for 1000$? Well think again. Shinola has created a stunning sports watch called Canfield Sport. With a 45mm case completed with a ceramic insert, this watch will not go unnoticed, just like its mother company. Shinola is proudly American, founded and based out of Detroit, Michigan. This young company was founded in 2011 and is mostly known for its watches, bicycles and leather goods. Shinola has assembled their most complex movement for the Canfield Sport watch. This watch was created to make a statement, while remaining both very modern and timeless. It offers many great features like the Dual Calendar Aperture and Coin Edge Detail, which is the company's signature. The Shinola Canfield Sport watch is very well designed. It it perfect for both sports and everyday wear.
See it on Amazon